Here's Your Solution To Becoming More Organized And Profitable…
For the best results in managing the daily tasks in your business you need ProfitMaster. Find out for yourself how much easier running your business can be with no obligation. Download ProfitMaster for a 30 day trial period.
ProfitMaster Will Help You Build Your Business Easily And Quickly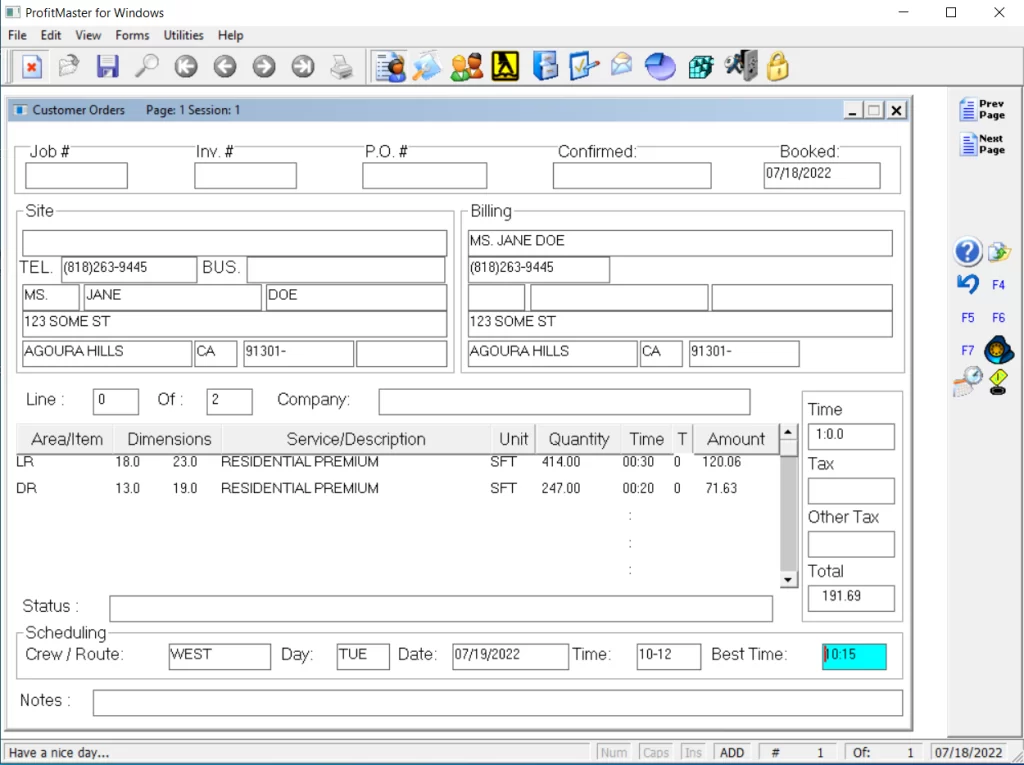 If you're not staying on top of all the details of your business you're letting profits leak (if not flood) down the drain. Even if you have a computer and don't use a software program designed specifically for the service industry you are still wasting time and money. Time and money which could be used for growing your business and securing your future.
You compete in a rapidly changing market where you must pay attention and fine tune every aspect of your business.
Computers are definitely here to stay and can make running your business much easier and profitable. The problem is taking the time to evaluate and learning how to operate new software programs.
Finally, there's a new way to "test drive" and easily learn a computer software package designed specifically for your business.
You'll be amazed at how much more quickly, easily, and effectively you can look-up customer information, schedule jobs, send out service reminders, thank you cards and at any time know who owes you money. Plus, instantly get reports on virtually any aspect of your business you want.
More Than Just A Data Base Or Accounting Program
There are other programs available to help you run your business but they aren't designed specifically for the service industry. They only take care of limited areas.
ProfitMaster is a trade specific program that will provide you with the details you need and features you won't find anywhere else.
Using another software program is like trying to fix your car with just a pair of pliers. Sure, you'll be able to twist a few nuts and bolts but there are other areas you won't be able to touch. If you are using any other program or none at all, you're being robbed of vital information such as:
Did your yellow pages ad really pay for itself?
Did you remember to send out thank you cards last week?
Who was it you were supposed to call back on that commercial bid?
What's your cash flow looking like for the next month?
Are your technicians doing a good job of offering other services?
We have combined a work order based system with accounting and marketing tools. All of your vital business information is now in one central place.
You can stop searching through the piles of papers on your desk, to-do lists and stuffed file cabinets. You can stop switching back and forth between programs.
With the New Windows version of ProfitMaster all of your customer, record keeping and management information are at your fingertips in one integrated program.
With ProfitMaster Nothing Falls Through The Cracks
You'll always be in control – not in "crisis mode." That's because our breakthrough software streamlines your business and helps you easily stay on top of all the details. Minutes after you take it out of the box ProfitMaster will help you:
Keep track of every telephone call and related conversation that comes into the office so you can provide better customer support and service.
See your accounts receivable at a push of a button so you can send out statements and get what's owed to you.
Track how well your advertising is doing so you won't waste any more money on useless ads.
Run virtually any type of report you want. Compensation; Technician performance; Outstanding jobs; Booking; Accounts receivable; Calls to make; Advertising performance and many, many more.
If You Ever Want To Sell Your Business Having A "System" Is Vital
Someday you may want to sell your business. Nobody wants to work forever. But too many businesses make the mistake of building a business no one wants to buy.
Not because it isn't a good business – but because there is no way they can just step in and take over. ProfitMaster will help you build that system so if you do decide to retire to the beach or woods someday you'll have a line of eager entrepreneurs begging to cut you a check.